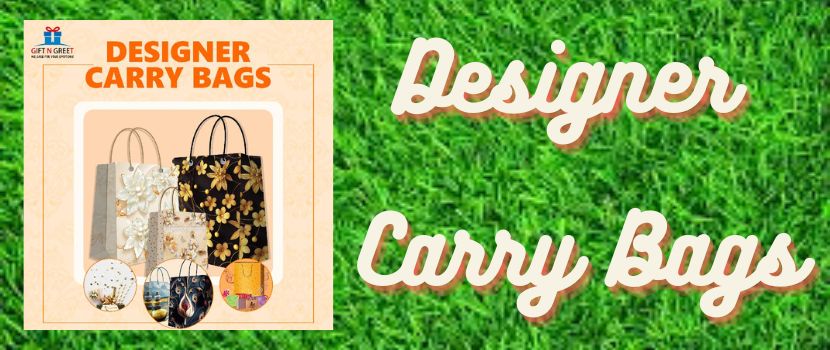 Designer carry bags have evolved from being merely functional accessories to being a fashion statement that expresses one's taste. These bags are useful for transporting things, but they also give every ensemble a sense of class and refinement. Designer carry bags provide a variety of solutions to fit various requirements and preferences, from elegant purses to chic totes.
Fashion & Style
Designer carry bags are well known for their flawless design and meticulous attention to detail. They are produced by well-known fashion houses and designers, who infuse each creation with their aesthetics.
These bags frequently stand out from standard bags thanks to their superb fabrics, elaborate patterns, and creative designs. Any outfit gains an air of richness and a quick style boost from carrying a designer bag.
Quality and Robustness
The great quality and longevity of designer carry bags is one of their main benefits. These bags are carefully constructed from high-quality materials to ensure they can survive normal wear and tear.
Strong construction, dependable stitching, and long-lasting hardware are the results of outstanding craftsmanship and attention to detail. Purchasing a luxury bag is an investment in a durable item that will endure for many years.
Versatility
Designer carry bags are versatile for numerous events since they come in a variety of forms, sizes, and designs. There is a designer bag to fit every requirement, from roomy totes for daily use to chic clutches with formals.
These bags frequently include several pockets and compartments, enabling effective management of possessions. A designer carry bag may easily match your attire and fit your needs. It is applicable whether you're headed to work, a social event, or on a weekend trip.
Identifying Statement
A designer bag is a show of one's uniqueness and sense of style. One may exhibit their individuality via their choice of bag. All thanks to the numerous patterns, hues, and decorations that are accessible. Designer handbags frequently become identifiable icons linked to certain brands or designers, representing one's preferences and tastes.
Financial Value
Designer handbags may be viewed as investment assets in addition to being stylish accessories. Many expensive designer handbags retain their value over time and even increase in value. It is particularly for those with limited-edition or recognizable designs.
Therefore, investing in a designer bag may be considered wise. This is because it provides both a satisfying aesthetic experience and the possibility of financial gains.
Observation of Details
The exacting attention to detail is one thing that sets designers' carry bags apart. Every detail, from the selection of materials to the positioning of decorations, is meticulously taken into account. These bags are more appealing overall thanks to the use of premium hardware, plush linings, and elaborate decorations. Every designer bag is a unique work of art because of the meticulous attention to detail.
Conclusion
Designer carry bags are more than simply a way to transport items. They are also representations of uniqueness, quality, and style. These bags provide a distinctive fusion of use and style thanks to their flawless craftsmanship, adaptability, and attention to detail.
A designer carry bag is a need in every wardrobe. It is applicable whether you're trying to up your everyday style or make a fashion statement. You can even invest in it as a classic accessory.